What's this I'm feeling? Is... is that... hope?!!
Ad(daz)ios, Stevie Boy
Last season ended so poorly, I could not even muster enough energy to write about weeks 11 and 12. In those weeks, the Rams fell behind and could not catch up to a Hawaii team that ended up firing their coach and then got BLASTED at home by the Nevada Wolfpack. During that final home game of the season, two amazing things happened.
1) Steve Addazio was ejected from the game like the chump that he is.
2) This:
Yep, that shirt says "I WAS AT ADDAZIO'S FINAL CSU GAME 11-27-21". This fine gentleman was seated across the aisle from our crew and while I loved the sentiment, I was unsure how CSU could financially make this the truth.
Fast forward to today and it WAS his last CSU game. The opposing coach from that final game (Nevada's Norvell) was hired to fix this broken program and has done nothing but impress the Ram faithful in his time in Fort Collins. His introductory press conference was filled with feel-good moments about the man and his vision for the team. His recruiting classes are vastly better than we have seen, his offensive scheme is modern and exciting, his coaching staff is energetic and engaged, and the program (top to bottom) is injecting itself into the CSU and Fort Collins community. Things are finally looking up!!
Even though the program appears to be in good hands and the trajectory appears to be going up, we do have to remember that this is a program with a new staff coaching a roster that has experienced a massive turnover including the youngest quarterback room in the country (career totals for the room include three pass attempts, two completions, and 18 total yards passing). All of these factors have tempered my expectations a bit, but I'm still encouraged by what we are hearing and seeing. Let's dig in...
The Schedule
Week 1: at Michigan
Courtesy of the University of Michigan
Is there a better way to welcome a quarterback unit of two redshirt freshmen and two true freshmen into collegiate football than a game against a pre-season top 10 team at the Big House? While CSU has inexperience under center, at least they have a clear #1 - Clay Millen. Michigan is trying a new approach - use the two early powderpuff Mountain West Conference games to figure out which QB starts the remainder of the season. CSU will see returning starter Cade McNamara in week one and JJ McCarthy will start for week two against Timmy Chang's Hawaii squad. A quarterback controversy into the season does not seem like National Championship material, but you do you Jim Harbaugh.
The line for this game started at CSU +27.5 and has moved to CSU +30.5. While I think the Rams end up covering, this might be a rough start to the Norvell era.
Week 2: Middle Tennessee
Courtesy of Middle Tennessee State University
Conference USA member Middle Tennessee State is coming off a 7-6 season that culminated with a Bahamas Bowl win over Toledo - the same Toledo that was one of three improbable Ram victories last season. I think the first home game in Fort Collins for Jay Norvell will be full of energy and excitement and the Rams come away victorious.
Week 3: at Washington State
Courtesy of Washington State University
Who the heck knows what to expect from the Cougars? WSU went 7-5 in the 2021 regular season, lost to the Chippewas of Central Michigan (and old friend Jim McElwain) in the Sun Bowl, and made Jake Dickert the full-time head coach. With his interim title, Dickert went 3-3 to close out last season including a massive win over Washington - their first win over their in-state rival in eight tries. Despite the uncertainty from the past calendar year, Dickert appears to have settled the instability with the program and winning in Pullman might prove difficult.
Week 4: Sacramento State
Stingers up! Sac State enters the 2022 season ranked #7 at the FCS level. While concerning with CSU's recent history against FCS opponents, the new regime in Fort Collins should reverse a trend that no one has enjoyed.
Week 6: at Nevada
Courtesy of University of Nevada-Reno
What will the atmosphere be like at Mackay Stadium when Jay Norvell and his staff and team filled with folks who called Nevada home as recently as May come rolling into town? Despite Jay's friendly demeanor, I expect some vitriol... Because of the mass exodus of people from Reno to Fort Collins, the Rams should easily win this one on the road.
Week 7: Utah State
Courtesy of Utah State University
Utah State won the Mountain West last year - a surprising feat with first year head coach Blake Anderson. USU happened to play in Week 0 against historically awful UCONN and escaped with an 11 point victory at home. Most Ram fans have probably pushed the 2021 CSU/USU game out of their heads (remember the last second field goal fiasco?!!), but I remember it well. The addition of a special teams coach and subtraction of an absolute idiot head coach should help this situation. USU is better than they showed against UCONN and should beat the Rams in Fort Collins. This is one of those swing games that could dramatically shift the tone of the season if the Rams were to emerge victorious.
Week 8: Hawaii
Courtesy of the Honolulu Star-Advertiser
Long-time CSU receivers coach Timmy Chang took over the program at his alma mater in January of this year after a tumultuous tenure under previous head coach Todd Graham. Multiple allegations of mistreatment by the players forced Graham out and reset the clock on the program. Chang brings a lot of energy and passion to the program, but he is not even a year into a total program overhaul. The Rainbow Warriors are not in a good place right now (losing 62-10 against Vanderbilt?!!). This should be a decisive Ram victory.
Week 9: at Boise State
Courtesy of SBNation.com
This is a loss until the CSU football team proves that it is not always a loss.
Week 10: at San Jose State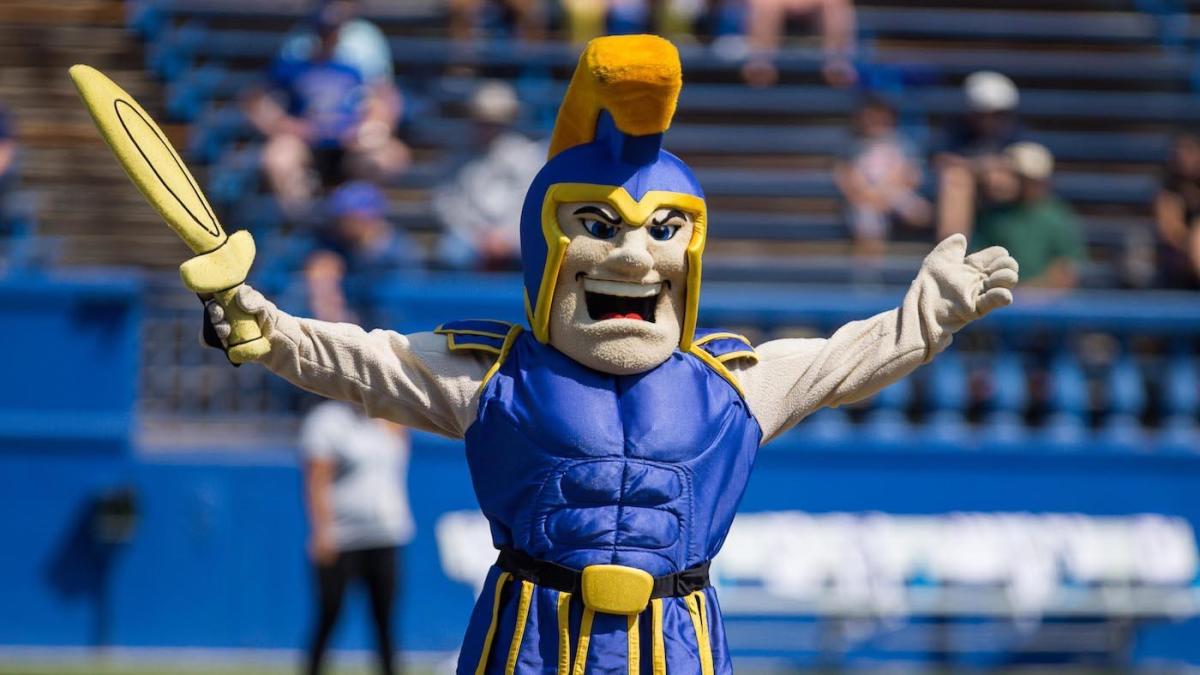 Courtesy of CBSSports.com
San Jose State is another interesting matchup for CSU. By the time CSU travels to San Jose, they will have some games (and hopefully wins) under their belts. This is a game that could go either way and neither outcome would surprise me. Considering this is on the road, I think the Spartans come out on top.
Week 11: Wyoming
Week 12: at Air Force
Courtesy of Insider.com
Air Force vs. Air Raid. Let's freaking go. Air Force is in contention to win the Mountain West Conference, so I am happy this matchup takes place late in the season. By Week 12, Fort Air Raid should be flying on all cylinders and should be able to score frequently against a forever-outsized AFA secondary.
Week 13: New Mexico
This is a win until the New Mexico football team proves that it is not always a win.
Flick's Picks
The schedule can be broken into four categories:
Will not win (2 - Michigan, Boise State)
May win (4 - Washington State, Utah State, San Jose State, Air Force)
Should win (2 - Wyoming, Middle Tennessee)
Have to win (4 - Sacramento State, Nevada, Hawaii, New Mexico)
I know it is year one of a new coaching staff. I know that the quarterback position is young and inexperienced. Yet, I still think that the combination of Jay Norvell, his staff, and the talent in Fort Collins gets us close to, if not in, a low level bowl game. And for as bad as this program has been the past few years, sniffing a bowl game sounds like heaven on earth. Go Rams!
Final prediction: 6-6