This, folks, is what we call a rebuild.
I entered this past week with more optimism that should follow a 51-7 road loss. We were coming home against a far weaker opponent with our shiny new coach and our shiny new team in our shiny new(ish) stadium. This was the TRUE start of the Jay Norvell era. The weather knew better though as the cool and wet air moved in the night before. It was a sign.
The Rams won the toss and elected to receive. Damn right - give the damn Fort Air Raid the damn ball in our damn home stadium. One kickoff, one long MTSU injury delay, and one CSU offensive play later, the Rams were down 7-0. Ouch. A telegraphed pass attempt from Clay Millen to Tory Horton sailed over the receivers head and into the awaiting arms of Middle Tennessee safety Tra Fluellen who had an unimpeded look at the end zone just a short 35 yards away. And that was just the start...
The Takeaways
The Big Uglies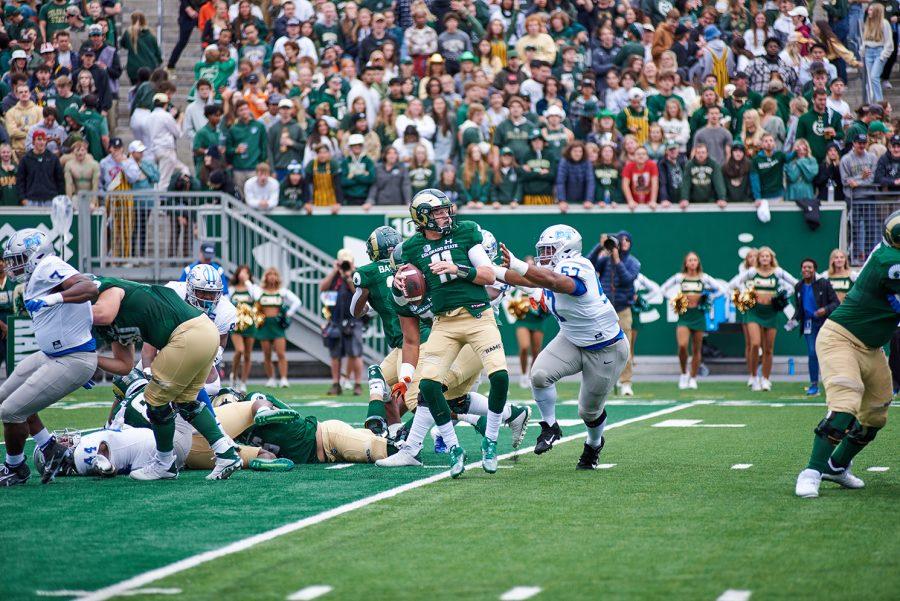 Courtesy of the Rocky Mountain Collegian
For being "offensive line experts", the Addazios never recruited a great stable of front-line offensive guys. With the late arrival of Norvell and Bill Best, the OL cupboard was pretty bare and the Rams have had to rely on the few existing guys who stuck around and whatever transfers they could muster in a short amount of time. This all amounts to a unit that is the weakest collective group on the field through the first two games on the schedule. To make things worse, both starting tackles (LT Brian Crespo-Jaquez and RT Dontae Keys) were hit with the injury bug and missed all or part of this game. Keys may return this week, but Crespo-Jaquez is out for the year - shortening an already short bench. Center Jacob Gardner played left tackle for Norvell at Nevada and may slide outside to replace injured Crespo-Jaquez. Even if Keys is available to play this weekend, this line is a patchwork quilt of big uglies trying to improve just enough to get the Fort Air Raid flying.
Regardless of who is playing along that line, the unit needs to improve drastically. Outside of the 19 point third quarter this past weekend, the Rams have more sacks given up (16) than points scored (7). That ratio needs to dramatically flip. No one else in the country has given up more than 11 sacks besides our boys in the green and gold. Painful (to watch and for Clay Millen, I'm assuming).
Millen to Horton (Repeat)
Courtesy of the Loveland Reporter Herald
The third quarter showed a glimpse of what Norvell and Mumme are trying to develop in Fort Collins - an explosive vertical passing game that puts up points and keeps defenses on their heels. In the quarter, the Rams jumped on the board for 19 points including three touchdown passes from Millen to Horton. For the second week in a row, Horton was the leading receiver in the game with nine receptions for 186 yards and those three scores. Clearly, Horton is Millen's first (and sometimes only) choice when dropping back to pass. Even though two other wide receivers and two running backs caught balls from Millen, the sieve of an offensive line makes it tough for a quarterback to get to their drop, go through their progression, step up in the pocket, and deliver a quality throw. Instead, Millen is immediately pressured and targets his primary receiver - Horton. This is what led to the opening pick-6 and Horton's big numbers in the second half. Improved line play and a focused defensive effort to stop Horton will go a long way in making this Fort Air Raid offense more diverse on the receiving side and more explosive overall. As a side note - CSU has scored four touchdowns in two games. All four have resulted from a pass from Millen to Horton.
Protecting the Pig
For the second week in a row, the Rams lost the turnover battle. Two fumbles and two interceptions are catastrophic when you are trying to win a football game. Even worse is how you packaged up the turnovers:
An interception returned for a touchdown on the first play from scrimmage
A fumble in the red zone (inside the 10 yard line!!)
A fumble two offensive plays later on the next dang drive
A late interception with 7:45 left in the game as the possibility of a comeback was rearing its head
Let's Be Positive
Despite the dominant performance by the Blue Raiders (lame name), there was some quality on the field.
The aforementioned Millen-Horton connection. This could be the top QB/WR duo in the Mountain West by season's end.
The consistent play from the defense. The Blue Raiders (still lame) scored 27 points in the first half; seven coming from their pick-six, two field goals, and two touchdowns on short fields (41 yards and 18 yards on their two touchdown drives). The offense did them no favors - they did not sustain drives or win the field position battle at all in the first half - and score reflected that accordingly. In the second half, the improved offensive production allowed the defense time to recover and keep up with the Middle Tennessee offense, holding them to just seven points the rest of the game. And those points came on the initial drive of the third quarter!
Jack Howell - game changer (team leading 17 tackles, 1 interception)
Mohamed Kamara - game changer (3 tackles for a loss, 1 sack)
Robert Sudar - game changer (Starter jacket)
The Fallout
As one expects with the new transfer rules and a team in a rebuild, news broke this week of two experienced players entering the transfer portal - wide receiver and Freshman All American Dante Wright and place kicker Cayden Camper.
Let's start with Camper... #95 will forever be tied to the Rams as he holds the program record for most field goals in a game (six against SJSU in 2021). Camper was a decent kicker, but his FG% was only 69.6% for his career. The Rams have two senior transfers (Henry Katleman from Oregon and Michael Boyle from Hawaii) that will most likely take over FG duty this season. Katleman has been doing kickoffs all year and has a strong leg. The Norvell staff also recruited a freshman kicker - Bryan Hansen - out of Texas should the two seniors struggle. I am not exactly sure what the story is with Camper's departure, but I hope he finds success wherever he lands.
Courtesy of Mountain West Connection
Now Dante... Dante Wright has been synonymous with CSU since his arrival on campus. His freshman year was explosive - 802 yards receiving, 214 yards rushing, 135 yards returning punts, and six touchdowns. Ram fans were excited about the potential of this young kid as he gained national recognition as a Freshman All American. That year, of course, was the end of the line for Mike Bobo. Even though they were operating within an offense designed by a rock, Dante and Trey McBride remained the main focus of the passing game when they were forced to throw the ball after two unsuccessful halfback dives. Needless to say, I was amped up about what Wright could do within the new Fort Air Raid system. Wright is a little burner - a perfectly formed slot receiver that can break the top off the defense. Unfortunately, things did not gel with the new coaching staff and Nevada transfer Melquan Stovall has taken most the snaps at that slot receiver position. This breakup seemed inevitable after the first couple games saw Wright rarely on the field. Wright will get some looks from some other schools for next season and I hope he finds a place where he can get some touches and show off that freakish athleticism and speed. I will always appreciate Dante's efforts and commitment to CSU, especially during such a tumultuous time in Fort Collins.
As Justin Michael said
on his podcast
the other day, this receivers room is the deepest it has been in a long, long time. There are some extremely talented (and BIG) receivers waiting to make an impact. At least one of these young guys (Justus Ross-Simmons, Mekhi Fox, Louis Brown, etc) will be on the field this season. In the long run, this move will be beneficial to both sides - Dante can get the playing time that he expects and the program can move into this new era of the Fort Air Raid.
Up Next
Another P5 road game - this time to Pullman, Washington to face the Cougars of Washington State. As I developed my preseason game-by-game picks, I wavered on whether or not I thought the Rams could ride into town and steal a victory. Luckily for my personal picking record, realism beat out the dreamer in me and I landed on a Ram loss. Then Washington State rolled into Camp Randall in Madison and beat the Badgers last Saturday. This one could be another ugly loss.
Courtesy of Seattle Sports 710 AM
Flick's Picks